by Bookwyrme , December 7, 2008—12:00 AM
I finished the scanned-printed-and-bound version, the one that is not thirteen feet long and that can be held in your hands.
I think it turned out well. I was afraid that the texture would be lost in the transition and, while it is true you can no longer touch it, it is still there.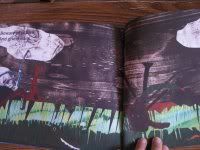 I'm made even happier by the fact that this copy was made-to-order copy and will go to its new home on Tuesday. So, sometime after that, some more kids will be enjoying the rhyme I wrote and illustrated, and the book will fill its primary function: It will be read.
As far as the original goes, I'm glad to report that it held up well and looked good through the display. The pages showed an alarming curve near the end that had me frustrated: It looked good on display, but I wanted to be able to lie it flat as well. However, it turns out that all it needed was a little while at home, lying down, to flatten out--and this is without weights on it. So that is one worry off my mind.
There are still areas that need work, for future projects--I talked about the tackiness in an earlier post, and that is still an issue, varying a bit with the weather, but always there, and the back and front of many of the pages still has a slight separation at points. I think I'll mix the paste less thickly next time, and use only one glue (Thanks, Mary, for that tip!), and... We'll see. But I do think I'm hooked on the large accordion book as a format.
Oh, and for the sake of comparison, here is a photo of the original, accordion format on display.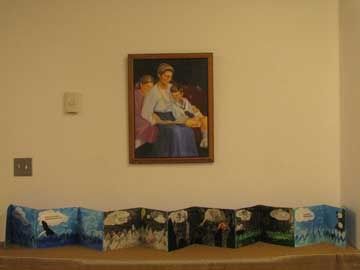 Incidentally, the painting above the book is one my mom painted. We hadn't planned on displaying them together, but once we all got to setting up the room, they seemed to belong on the same wall.
---
COMMENTS
---