by Bookwyrme , October 21, 2008—12:00 AM
A look at a one-day project.
I've been working on a lot of long-term projects lately. Watch Out for Whales, the short collage/poem book I've been working on, took a couple of months and is only probably finished as of today (It's drying under a pile of heavy books and a flat of water, so I haven't seen the really finished product yet). It's only 14 pages long, counting the cover and the title page, but that's a lot of collage. Plus, of course, there was an added bit of frustration when I got the pages together, thought I had done them backwards, redid them, and realized I'd done them right the first time. And I'm working on figuring out applique, by hand, and on a project that promises at least another month's work, and...
I am not complaining, mind, not really. I love all the projects and am, overall, pleased with the way they are progressing.
But they do take a lot of time, and while delayed gratification is all very well, I thought it would be nice to start and finish something inside of a day.
And so, without further ado, I present to you: The Mailbox Monster!
Happy Halloween, everyone!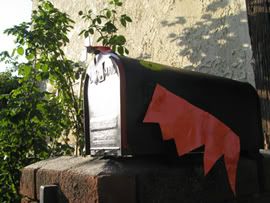 ---
COMMENTS
---